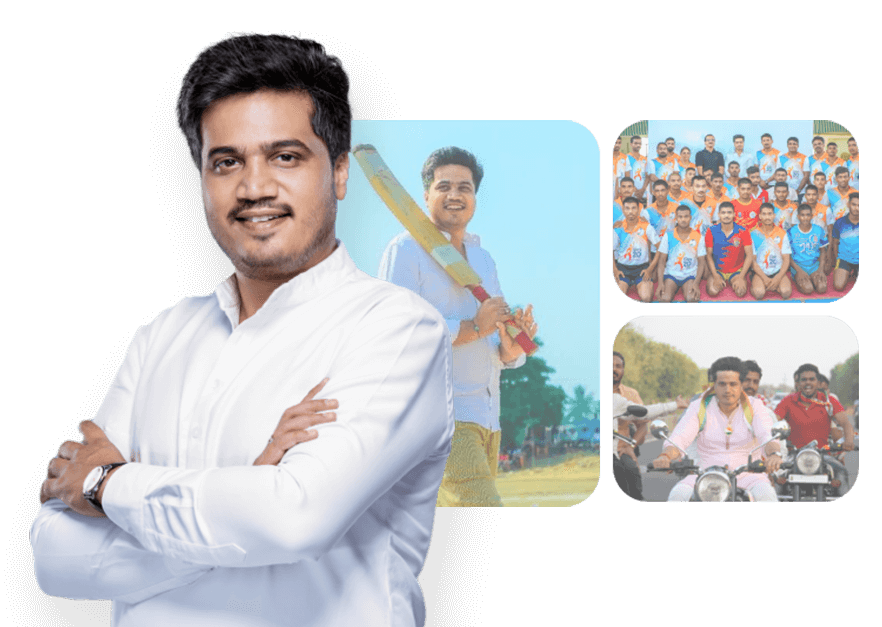 Educated citizens make up an Educated society. Rohit Pawar believes that developing Innovative teaching and Learning methods with the help of Modern Technology can reform the Education sector.
Considering it, during the Pandemic, Rohit Pawar came up with an innovative initiative called #MyVillageMySchool, under which 435 schools of Zilla Parishad got Digital panels.
Through 'Amazon India' Rohit distributed 250 smart tabs to 76 primary schools of Zilla Parishad, which participated in Samrudha Gaon Sankalp Yojana in Karjat Jamkhed Taluka. He also started the 'Moving Planetarium' for Zilla Parishad School through KJIDF to create interest in space among students.
As there is confusion among the students about which field to pursue as a career after 10th standard, 'Free Career Guidance' was given to the 10th standard students in all government and aided secondary schools; 55 in Karjat taluka and 34 in Jamkhed taluka in total 89 schools provided Career Guidance to 10th standard students. To increase the 'Educational Quality' of students in the Karjat Jamkhed constituency, 1300 teachers and 662 Anganwadi workers, and 662 helpers were trained for the first time under the 'Quality Educational Development Program'. Rohit provided 40 types of educational items to the Anganwadi children through KJIDF.
The joint venture from KJIDF and Amazon India to set up 'Coding Labs' in schools up to 8th in Karjat and Jamkhed talukas was initiated. Through this, students will be taught various types of computer languages. The students of Karjat Jamkhed who are preparing for JEE/NEET have got free guidance for exam preparation by indirect assistance to students of 4.5 crores which has benefited 228 students. A SEED program has been planned in collaboration with Tata Motors Limited through KJIDF, and its implementation has started.
To upgrade the ITI, Rohit provided a BS-4 engine in partnership with Company Piago for the workshop at ITI Jamkhed. ITI - Jamkhed is the only institute in the State to have such an engine.
If the country is to move forward with its economy, it must develop its industrial sector efficiently. Therefore, creating a conducive environment for the start-up of more and more industries is the need of the hour. Only then can we re-introduce Maharashtra as an industrial state once known as the most industrialized state in the country.
Rohit Pawar is a successful entrepreneur himself. He knows the issues, problems, and necessary solutions for entrepreneurs facing endless difficulties setting up industries in Maharashtra. He regularly interacts with such entrepreneurs and raises their concerns with the Central and State Governments. He had promised his constituency to start Maharashtra Industrial Development Corporation (MIDC) in Karjat Jamkhed. After getting elected, Rohit Pawar kept his word and tried to get approval from the state government.
Rohit Pawar has emphasized solving GST-related problems of the entrepreneurs, a one-stop-shop scheme for them to set up industries, resolving all the issues that come up while matching the required documents and raising capital for new industries. As a people's representative, Rohit Pawar not only raises the issues and problems of the entrepreneurs, but he is always ready to follow up with the Central and State Governments regarding the resolutions of those issues. He is committed to safeguarding the interests of current and aspiring entrepreneurs.
Agriculture is the backbone of our country's economy, and farmers are our primary food providers. Padmashree Dr. Appasaheb Pawar, Rohit Pawar's grandfather, was a farmer and visionary who dedicated his life to encouraging sustainable livelihoods and improvising the living of rural and agricultural communities. Mr. Rajendra Pawar, Rohit Pawar's father, took various initiatives to strengthen farmers by guiding them on plantation, spraying, inter-crop season, fertiliser, and water management. To date, he held meetings in more than 100 villages and gave guidance about agriculture. From the start, "Baramati Agro Pvt. Ltd" (BAL) was involved in humanitarian activities under the direction of Dr. Appasaheb Pawar and stalwart political leader of India and Ex Agriculture Minister of India, Mr. Sharad Pawar. Rajendra Pawar advanced the same riches; he is also heading Baramati Krishi Vigyan Kendra and conducts various experiments in Agrarian technology. After joining as CEO of BAL, the organisation prospered more under Rohit Pawar's leadership. He also served the populace's needs and established himself as an expert in various sectors.
Rohit Pawar is committed to empowering marginalised farmers. Maharashtra has 1.529 crore farmers, with 79.52% of them marginalised. Considering Mechanization's importance in modern agriculture, Rohit Pawar distributed 65 tractors and 338 agricultural implements in the constituency through various schemes.
Considering the increased cost of Drip Irrigation in the fields due to the high price of raw materials during rising inflation and Lockdown, Rohit raised this issue and followed it up with the Government officials. Accordingly, the government decided to provide an 80 percent subsidy to small landholding farmers under the 'Chief Minister's Sustainable Agriculture Irrigation Scheme'. It helped around 107 talukas, and a 75 percent subsidy was covered for farmers in other talukas for the 'Drip Irrigation System'. As a result, 1485 farmers have received a subsidy of Rs 2.95 crore. Rohit Pawar's efforts resulted in the disbursement of Rs. 190 crores in outstanding insurance amounts to farmers during the Kharif season of 2018. In addition, huge vaccination camps were organised during the Corona pandemic and Lumpy Skin Disease outbreaks. In September 2022, he again distributed 1 lakh Doses making Karjat - Jamkhed; the first constituency in the State to complete 100% vaccination for Lumpy Skin Disease.
Being a youth leader and a young social entrepreneur, Rohit Pawar has made a remarkable contribution to the Agriculture Industry. At the age of 21, he became the CEO of Baramati Agro Pvt Ltd. Through his visionary skills and innovative techniques, the company earned prosperity. He was the Youngest President of ISMA in the year 2018-2019.
Rohit Pawar is committed to providing space for setting up industries and connecting the youth with successful entrepreneurs and experts in business who can guide them effectively. An Initiative is working in this direction 'Srujan Entrepreneurship and Skill Development Programme aims to channel the energy of Youths with entrepreneurship skills. Post-Graduates, Graduates, and 10th/12th pass candidates are trained with appropriate guidance helping them to achieve their business aspirations; more than 1000 students have benefited from this program. Rohit Pawar has always stepped ahead to solve the problems MPSC/UPSC candidates face by raising their concerns to the State Government. Through KJIDF, he has provided Free Guidance to JEE/NEET aspirants in his constituency, which has benefited more than 500 students. Other than that, 'The SEED Program' was conducted in collaboration with Tata Motors, in which pre-examination was taken for students willing to appear for the JEE/NEET exam in Karjat and Jamkhed in which 892 students benefited. To recruit more girls in the Police Force, through 'Agricultural Development Trust' 544 girls were trained and recruited into the police force from various districts.
'Srujan Foundation,' an initiative of Rohit Pawar has provided a platform for Youths that create opportunities for them across the State and the country; it aims to recognize and value potential youths. In addition, Srujan has organized various Sports Events, such as International Wrestling Tournament and Cricket Tournament, and promoted other sports to empower Youths and increase their participation in Sports.
Rohit Pawar's political journey so far is from Pune Zilla Parishad member to MLA of Karjat Jamkhed Assembly constituency. He has always emphasized Modern Technology to remove administrative hurdles and bring public utility schemes to the needy. Rohit's approach to good governance has been seen in his work and the access he has provided for every citizen. Through the medium of KJIDF, he has appointed Coordinators to every Zilla Parishad to coordinate and mark the issues faced by the citizens.
Rohit Pawar is trying to provide timely facilities to the citizens of rural areas of his constituency, as he constructed 2 Administrative buildings of Panchayat Samiti of Karjat and Jamkhed, which were very insufficient earlier. Rohit Pawar followed up on this issue with the Government and approved funds for the construction of the upper floors of the Panchayat Samiti.
8 Gram Panchayats in Karjat and Jamkhed talukas were without office buildings. Keeping this in mind, Rohit Pawar managed to get permission from the State Government to construct buildings. Other than that, 56 Talathi offices will also get a new facility in Karjat Jamkhed with an approved fund from the state government. Moreover, he started the construction of a Central Administrative building on the lines of Baramati to bring government offices to one place in Karjat. It will combine Provincial Law Office, Tehsildar Office, Agriculture Department, Land Records Department, and Sub-Registrar Office departments into one building. If all the government offices are in one place, different departments will coordinate work; the governing system will become more efficient. As a result, citizens will save time, labor, and money.
Life without good health is like an army without soldiers. Rohit Pawar sets his priority for Better Health Facilities in his Constituency and his able leadership was seen during the days of Covid as he took care of doctors, nurses, ambulance drivers, and various small and big businesspersons like the Head of the family. His work was not limited to his constituency; through 'Baramati Agro Pvt Ltd,' he distributed 1 lakh litre Sanitizers all over the State during COVID pandemic. Apart from that, PPE Kits, Oxygen Cylinders, Medicines, and Masks were distributed all over the State.
On his birthday, he organized the 'Covid Vaccination Campaign,'which got an excellent response. Around 23 thousand people were vaccinated in the constituency. Besides that, around 4800 bags of blood were collected through the 'Blood Donation Camp.' On the birthday of NCP chief Padma Vibhushan Sharad Pawar Ji, Rohit Pawar organized a 'Health Camp' in collaboration with 'Giriraj Hospital Baramati' in which a total of 4745 surgeries, 3145 angiographies, 1069 angioplasty, and 421 bypass surgeries were performed Free of cost. Five ambulances and a unique Mobile Clinic for Women were inaugurated to ensure all facilities reach the poorest. Health examinations of women by going to every village, gynaecological examinations for menstrual cycle problems, dental camps, heart disease camps were done through the medium of KJIDF.
In Eye Check-ups and Specks Distribution held from 12th to 17th September 2022, 19245 Specks were distributed in the constituency, of which 9376 in Jamkhed and 9869 in Karjat were distributed, respectively.
The foundation stone for the Empowerment of Women was laid by Rohit Pawar's Mother, Mrs. Sunandatai Pawar. She has been working tremendously for women's empowerment all her life. 'Bhimthadi Jatra', an event that provides employment opportunities to thousands of Self-Help Groups and Women, is a brainchild of Sunandatai. Rohit Pawar, through his medium, has provided financial aid to SHGs across the State. He believes Technical Knowledge is essential to make Women Financially Independent; he is working towards upskilling women by providing training in sewing, beauty parlors, fashion designing, and computer industries. In addition, he has provided Advance Home Appliances and Modern Machinery to women through an exhibition.
Rohit Pawar's initiative 'Vatsalya Yojana' has helped around 1100 Orphan children and deprived women who lost their families. 164 flour mills and 44 sewing machines were also provided under these initiatives. Considering the rise in criminal cases against women, he started 'Bharosa Cell' in his constituency, which is working towards Women's safety and Justice.
He launched an initiative called 'Healthy Girl, Bright Future' to spread awareness about sanitation and hygiene during the menstruation period for girls. Through this initiative, more than 28 thousand sanitary napkins were distributed. Another initiative 'Muktai Textiles' is generating employment opportunities for women in sewing and clothing units. Karjat-Jamkhed's pattern for Women's Development has become an Ideal Example for Empowering Women across the state through the efforts of Rohit Pawar and Sunandatai Pawar.
For decades, drought has ravaged thousands of villages in Maharashtra, leading to thirst, hunger, debt, forced migration, and withered crops. In 2020 monsoon hit Maharashtra wherein lakhs of displaced residents of Satara, Sangli, Kolhapur, and other neighbouring areas tried hard to gather their lives together after being hit by the devastating floods, on the other side some regions in Maharashtra were reeled under severe drought-like conditions. Rohit Pawar believes that fighting water crisis is not sufficient to attain a sustainable drought-free future. Active involvement of the villagers in understanding and solving the problems, educating villagers on watershed management options and remedies, proper utilization of conserved water, Canal construction, lift irrigation schemes, and applying better water usage techniques in farming are the steps ahead to solve the water crisis in Maharashtra.
Considering his own constituency Karjat – Jamkhed, both the talukas are drought-prone areas and receive very erratic and less rainfall, and are highly dependent on an external source of water, like tankers to fulfil their basic drinking and domestic needs. Identifying the issue as the most critical was the first need for action; to make Karjat and Jamkhed talukas water self–reliant. After a lot of community meetings, interactions, study an Abhiyaan 'Parivartan Parva' was launched in Karjat and Jamkhed to achieve water self-reliance in 207 villages. A structured Standard Operating Process was designed with people's participation as the key to the sustainable watershed development program.
Creating awareness about Parivartan Parva which is aimed at Water and Soil conservation management, leading to change lives through interventions of water work in the two talukas making water available for the whole year. Through this Program; the Water literacy of around 50000 people increased and over 1.5 lakh people benefited from the intervention of water structure works, women were empowered as spending time fetching water for domestic uses has reduced, seasonal migration of villages was reduced, farmers adopted water incentive crops pattern and over 9000 plants were planted with an aim to balance the ecosystem and maintain soil fertility.