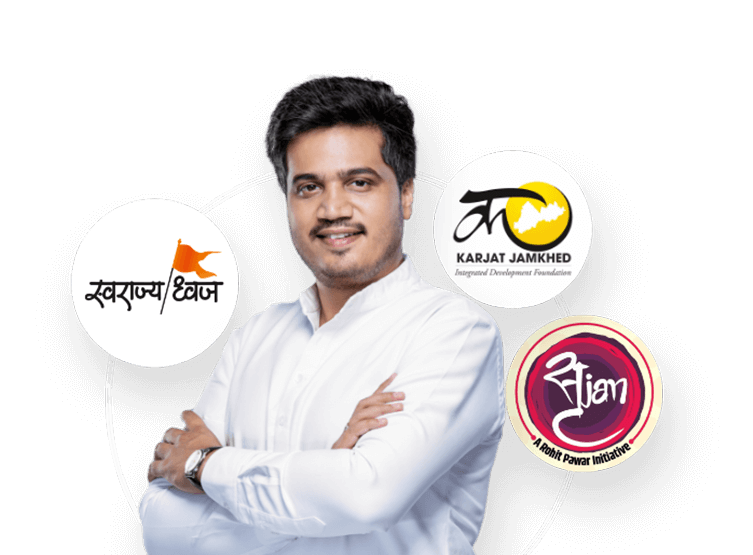 Initiatives
For the betterment and development of our people

Gauging the need for an Institution for sustainable development, Rohit Pawar established Karjat Jamkhed Integrated Development Foundation (KJIDF). It is an effort to bring together all the stakeholders working in the region for inclusive growth and development. KJIDF is devoted to working towards the Global Sustainable Development Goals. It works in sectors such as Agriculture, Water Conservation, Environment, Tourism, Livelihood, Skill Development, Women Empowerment, Health, Nutrition, Education, Digital Transformation, Arts and Culture, Youth Development, Sports, Disaster Relief, and Social Awakening. The main objective of KJIDF is to empower communities and create a self-initiated and sustainable environment in the public domain. The mechanism thus generated will become a constant and synergetic vehicle for the socio-economic transformation of Karjat and Jamkhed and a unique solution with significant potential for replication in the future.
There are 640 officially registered SHGs, with 7358 members in Karjat Jamkhed Assembly. Training and distribution of agarbatti-making machines, papad machines, sewing machines, and flour mill machines were made available for women to start their businesses through SHGs.
MyBusinessMyRight initiative has been implemented for unemployed Youths, aiming to boost the constituency's economy and make Youths financially capable and self-reliant by distributing 30 Tempo's. In addition, a Free Learner's license camp was conducted, which received a great response in Karjat-Jamkhed where 13080 people have already been allotted licenses.
Each region has its own unique History, Traditions, Culture, and Lifestyle; to preserve and promote it 'Karjat Jamkhed Tourism' was created by the conceptualization of Rohit Pawar to make a rich historical legacy of Karjat and Jamkhed accessible to all. It tries to provide information about the historical sites, religious places and places of interest, unique characteristics, unique food culture, and folk arts of the district.
Subscribe Us
'Swarajya Dwaj' was hosted in front of the historic Shivpattan fort of Kharda on 15th October 2021. It aims to preserve and enhance our rich traditions, culture, and heritage while moving forward with the times of modern technology. Swarajya Flag spreads Positive thinking and inspiration among the public in the right direction.
The fort of Kharda is one of the golden points in the history of the Maratha Empire. Shivpattan fort of Kharda witnessed the last won battle of the Maratha Empire. In this fort, the Maratha army successfully defeated the Nizam. In memory of the coronation of 'Chhatrapati Shivaji Maharaj' in 1674; the world's tallest Saffron flag 'The Swarajya Dwaj', 74 meters, is fluttering gracefully, testifying to the history of Maratha Swarajya.
Before hoisting the flag, the flag was carried and draped across the country at 74 essential spiritual powerhouses. Seeing this saffron Swarajya flag hoisted aloft will not only remind us of our glorious and glorious history, but in terms of tourism, this flag will significantly benefit this area.
Watch Video
Srujan was established in 2015; to provide a platform for Youth that create opportunities for them across the State and country. Srujan aims to recognize and value potential youths. It delivers sustainable development and bridges the gap between urban and rural youth to create a network of passionate individuals. Till now, Srujan has organized various events and campaigns to encourage and nurture new talent. 'Srujan Cricket Karandak' is one of its most loved events, attracting 1000s of youths annually from every corner of the State. It has benefited Youths from underprivileged backgrounds who cannot afford to join expensive Cricket coaching clubs. 'Srujan Boxing Karandak' is organized in collaboration with the Maharashtra Boxing Associations. For the First time, Karjat-Jamkhed's name has been highlighted on the world map through The International Wrestling Tournament held in Karjat; 400 wrestlers across the country entered the arena with pride. Srujan Foundation also promotes other sports like Kabaddi, Squash, Basketball, and Volleyball.
Srujan organizes various events to promote entrepreneurship and skill development amongst the youths. Many women and youngsters have taken inspiration from these events and started their businesses or self-help groups.
The Employment Guidance Program for Youths of Karjat Jamkhed got a great response as more than 1000 students got valuable guidance through this medium. Srujan also organizes various Cultural Activities for the youths so that youngsters get familiar with our cultures and traditions. Till now, Srujan has conducted thousands of free medical health check-up camps and blood donation camps across the State. Treatments like Angioplasty and Angiography were done at free of cost at these camps. The foundation organized events like the National level Srujan Bhajan Competition, Durgaraj Fort Building Competitions, Maharashtra Kesari Bullock Cart Race, and Cricket tournaments.
'DURGARAJ' – Fort Building Competition
Maharashtra has a tradition of creating replicas of forts on the house's premises during Diwali. The Durgaraj Fort Building Competition's objective is to awaken children's curiosity about the forts in Maharashtra and our glorious history. It gives scope to participants' creativity for rethinking Shivaji Maharaj's forts at that time and the architecture and engineering behind them. To increase tourism in the area by preserving, reviving all the wealth of historical heritage forts and historical castles, and providing employment to the youth through this.
This competition has been held every year since 2018 (except 2019 due to COVID crisis). Till now More than 25000 contestants from around 600 Mandals participated in this competition in 30 districts across the State, including children, youths, and women. In this competition, contestants also suggested their ideas regarding fort conservation, tourism development, and employment generation. Contestants highlighted a particular need for similar government-initiated competitions at the schools and college levels. In 2020 a detailed document with all the inputs was later presented to then CM Mr. Uddhav Thackeray for further policy implementation by Rohit Pawar.
Watch Video
SRUJAN 'BHAJAN'
To convey and carry forward the ideas of humanity and spirituality, taught by saints of Maharashtra to the younger generations, 'Srujan Bhajan Competition' was started in 2017 at the district level when Rohit Pawar was a Zilla Parishad member.
Due to the tremendous response, this competition was held at the state level in 2020. Considering the demand from outside the State, National level competition was organized in 2022. Today, it is the biggest bhajan competition in the history of India. Over 1200 teams participated in the competition this year, including 117+ South Indian teams and 35+ Karjat-Jamkhed teams. More than 6000 singers participated in the competition from Karnataka, Goa, Tamil Nadu, and Kerala respectively.
Watch Video
MAHARASHTRA KESARI BULLOCK CART RACE
Bullock cart race is a very intimate subject of farmers. Bullock Cart Race is a 400-year-old tradition of Maharashtra. Arranging a bullock cart race, taking part in the race, and seeing the race are paramount aspects of our rural culture. On 3rd June 2022, after almost eight years of the Ban on Bullock Cart Race was lifted, Karjat-Jamkged witnessed its first state level grand 'Maharashtra Kesari Bullock Cart Race' to preserve. Promote and strengthen our authentic tradition of Maharashtra under the leadership of Rohit Pawar. Farmers celebrated this event with utmost pride and happiness.
This mega event proved successful as more than 500 bullock cart owners from different parts of the State participated in this competition. More than 25 thousand citizens came to Karjat city from all corners of Maharashtra to enjoy and experience the thrill of this competition.
Watch Video